Light Weight Care Gravy
Complete feed for adult cats (thin slices in gravy).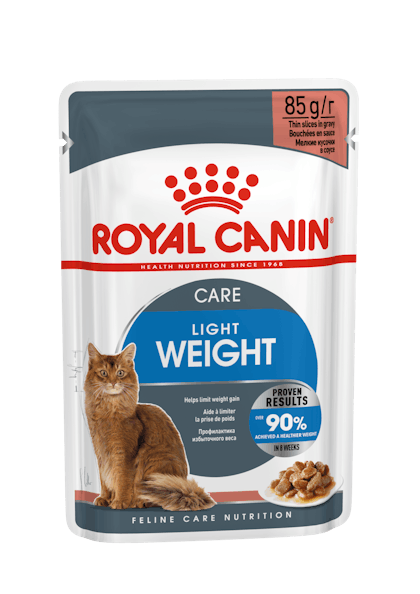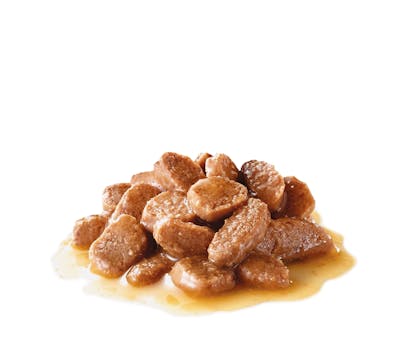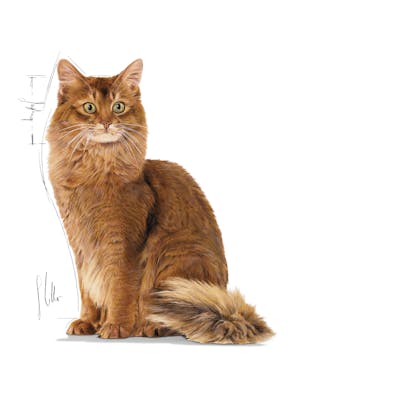 Proven results

Over 90% of cats achieved healthier weight in 8 weeks* *When following ROYAL CANIN® Light Weight Care nutritional program (combining dry and wet formulas). Royal Canin internal study.

Weight management program

1. Providing complete and balanced nutrition across both our wet and dry formulas, enabling you to choose the perfect combination for your cat. 2. Get your cat active with in-home games and feeding puzzles. 3. Avoid human food and fatty snacks. 4. If you have any questions or concerns about your cat's health, please contact your veterinarian.

ROYAL CANIN® Light Weight Care in Gravy is a nutritionally balanced formula that is tailor-made to support adult cats with a tendency to gain weight by satisfying their hunger and helping to keep them lighter on their paws. ROYAL CANIN® Light Weight Care in Gravy is formulated with a precise balance of vitamins and minerals to help maintain your cat's lifelong wellbeing. This formula is enriched with L-Carnitine, a nutrient involved in healthy fat metabolism, while the adapted protein content supports your cat's muscle mass for a healthier body weight. In an internal Royal Canin study, ROYAL CANIN® Light Weight Care in Gravy proved effective for more than 90% of participating cats. To appeal to each cat's appetite, ROYAL CANIN® Light Weight Care also comes in two other wet food textures: Jelly and Loaf. Light Weight Care is also available as dry food with crunchy kibble. If your cat enjoys a combination of wet and dry food, be sure to follow the on-pack feeding guide to ensure accurate portions.
Where to recycle
Royal Canin Feline Ultamino is a veterinary-exclusive dry cat food for adult cats with food sensitivities needing a short-term elimination diet or long-term nutrition
Home
Composition: meat and animal derivatives, derivatives of vegetable origin, cereals, vegetable protein extracts, minerals.

Additives (per kg): Nutritional additives: Vitamin D3: 170 IU, Iron (3b103): 4 mg, Iodine (3b201, 3b202): 0.3 mg, Copper (3b405, 3b406): 2.2 mg, Manganese (3b502, 3b503, 3b504): 1.4 mg, Zinc (3b603, 3b605, 3b606): 14 mg.

Analtycal constituents: Protein: 10.0% - Fat content: 2.1% - Crude ash: 1.6% - Crude fibres: 1.5% - Moisture: 82.5% - L-carnitine: 35.0 mg/kg .

For RSA: Guaranteed analysis g/kg: Crude protein (min) 80 - Moisture (max) 855 - Crude fat (min) 1 - Crude fibre (max) 25 - Crude ash (max) 18. Product registration number: XXXXXX - Act 36/1947. For Namibia: N-FF XXXX.

Feeding instruction: see table. Batch number, factory registration number and best before date: see information on packaging. To be stored in a cool, dry place.

Analytical constituants: Crude Protein 8.0% (min.), Crude Fat 0.1% (min.), Calcium 0.248% (min.), Phosphorus 0.184% (min.), Ash 1.8% (max.), Crude Fiber 2.5% (max.), Moisture 83.5% (max.), L-carnitine: 35 mg/kg.

Composition: meat and animal derivatives (chicken, pork), derivatives of vegetable origin (cellulose, gelling agent), cereals (rice flour), vegetable protein extracts (wheat gluten), minerals.

Additives (per kg): Amino acids - Vitamin D3: 170 IU, Iron: 4 mg, Iodine: 0.3 mg, Copper: 2.2 mg, Manganese: 1.4 mg, Zinc: 14 mg.

Feeding instruction: see table. Batch number, factory registration number and best before date: see information on packaging. To be stored in a cool, dry place.

Legal notice Expiration date: Displayed at the bottom of the bag (date/month/year) - Manufacture date: Displayed at the bottom of the bag - Manufacturing source: MARS AUSTRIA - Address: Jipyungsun-sandan-2 gil, 72, Baeksan-myun, Gymje City, Jeollabukdo, Korea - Weight: Separately declared on the pack - Customer Care no.: 080-041-5161 - Animal medicine & Re-packaging: Not applied - NOTICE: Do not feed the ruminant cattle. Store in a cool, dry place away from direct sunlight and pests. This product can be exchanged or compensated for the legitimate consumer damage in accordance with the Fair Trade Commission's Notice of Consumer Dispute Resolution Standards. - Country of origin: Austria.

Composition: pork meats, chicken meats, pork protein, cellulose, rice flour, wheat gluten, natural flavouring, amino acids (taurine, L-carnitine), thickening stabilizer (polysaccharide thickener), minerals (Na, P, Ca, K, Cl, Zn, Fe, Cu, Mn, I, chelated (Zn, Mn, Cu)), vitamins (choline, D3, E, B1, niacin, B2, calcium pantothenate, B6, folic acid, biotin, B12).

Guaranteed analysis: Protein 8.0% (min.), Fat Content 0.9% (min.), Crude fiber 2.5% (max.), Crude ash 1.8% (max.), Moisture 85.5% (max.).

Vitamins (per kg): A: 40000 IU, D3: 200 IU, E: 40 mg.

Calorie content: 73 kcal/100 g (metabolisable energy).

Dietary fibres: 1.6%.

Origin: Country of originAustria (Mars Austria OG) - IMPORTER Royal Canin Japan Inc. - 108-0075 Tokyo, Minato-ku, Konan, 1-2-70.

Legal notice: Cat food (complete nutritional feed for adult cats). This product is certified as satisfying the criteria for complete nutritional feeds as a result of analytical testing specified by the Pet Food Fair Trade Association.

Feeding instruction:

Please give the amount of daily feeding divided into 2-3 times at room temperature. Make sure they can drink fresh water at any time. After opening, store refrigerated and give within 2 days. The date is displayed in the order of [Day / Month / Year] at the bottom of this product.

| Cat weight | Pouch | Pouch + Kibbles (g) |
| --- | --- | --- |
| 4 kg | 3 + 1/2 Pouch | 1 Pouch + 44g |